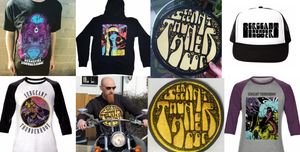 Art / Design / Merchandise solutions.
Tired of playing gigs and having nothing to sell on your merch table? Speak to a member of our team as we have the tools to change it!
We can take care of everything for you, including creating and preparing the artwork, labels, formatting and ordering. We know what process will work best for you based on your requirements and budget.
We have  an amazing team of talented artists, designers and printers at Stage 2 Studios. We have helped countless bands achieve their goals, whether that be beautiful hand printed T-Shirts, sumptuous coloured vinyl or even good old fashioned glass mastered Cd's. We have the team, knowledge and contacts to turn your ideas into reality. We have a strong ethos of keeping everything as local as possible. Whether that be Bath based artists, silk screen printers or craftsmen. The only limits are your imagination (and what your fanbase are willing to buy from you!).